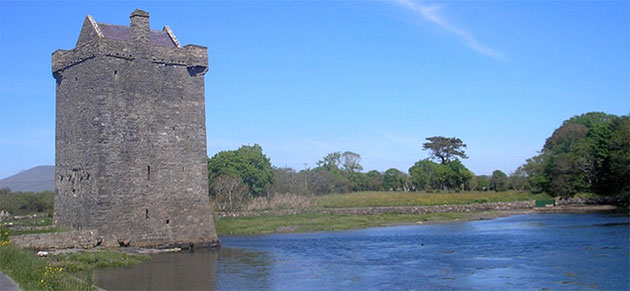 Der Turm aus dem 15. Jahrhundert, genannt Rockfleet oder Carrigahowley (Carraig an Cabhlaigh), ist eine typische Unterkunft eines wohlhabenden Landbesitzers. Es war der Hauptsitz der Burke-Familie von West Mayo von der es durch Heirat an die gefürchtete Granuaile oder
Gráinne Ní Mháille, Grace O'Malley
ging. Sie war in ihrer Zeit als "berüchtigste Frau an allen Küsten Irlands" und "Amme aller Rebellionen" bekannt und ist heute als "Piraten-Königin" eine Berühmtheit.
Granuaile machte Rockfleet zu ihrer Haupt-Festung. Eine seegestützte Streitmacht des Sheriffs von Galway unter Kapitän William Martin belagerte Rockfleet im Jahre 1574. Doch Granuaile jagte die Angreifer davon. Im hohen Alter lebte sie hier dauerhaft mit "all ihren Gefolgsleuten und 1.000 Kühen und Eseln". Es gab weitreichende Außengebäude.
Der Hauptraum, mit dem originalen Steinfußboden und dem gewölbten Kamin ist ganz oben. Der Zugang erfolgt über eine enge Wendeltreppe (man beachte den Abort, der zweimal am Tag durch die Gezeiten gespült wurde). Schwere Lasten wurden durch die obenliegende Tür  im Ostwall gehievt. Laut einer Legende soll Granuaile die Haltetrosse ihres Schiffes durch eine Schießscharte in der Südmauer geführt und nachts an ihrem Bett befestigt haben.

The 15th century tower of Rockfleet, or Carrigahowley (Carraig an Cabhlaigh), is typical of the fortified dwelling of a wealthy landowner. It was the main residence of the Burke family of West Mayo from whom it passed about 1566 by marriage and appropriation to the redoubtable
Granuaile or Gráinne Ní Mháille, Grace O'Malley
. She was renowned in her time as that "notorious woman in all the coasts of Ireland", and "nurse of all rebellions", and is famed today as "the Pirate Queen".
Granuaile made Rockfleet her principal stronghold. A sea-borne force sent by the Sheriff of Galway, under Captain William Martin, laid siege to Rockfleet in 1574. Granuaile drove the attackers off. In old age she settled here permantly with "all her followers and 1.000 head of cows and mares". There were extensive outbuildings then.
The main living area, with original stone floor and arched fireplace, is at the top. Access is via spiral staircase (note the garderobe, flushed twice daily by the tide). Heavy items were hoisted up through the high doorway in the east wall. Legend has it that Granuaile ran the mooring rope of her ship through the loophole in the south wall and tied it to her bed at night.