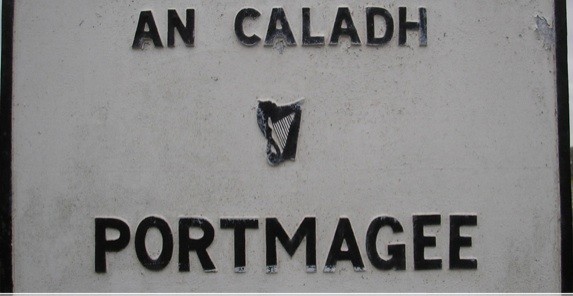 Mehr als ein kleiner Hafen...
Auf Gälisch heißt der Ort "An Caladh", die Fähre, wegen seiner Bedeutung als kleiner Fährhafen zwischen Valentia Island und dem irischen "Festland".
Der englische Name "Portmagee" entstand im 18. Jahrhundert.
Captain Theobald Magee, ein "pensionierter" Offizier der Armee von König James verdiente sich seinen Unterhalt durch den regen Handel mit Portugal, und Frankreich. Tabak, Textilien und Branntweine waren seine Hauptwaren.  Durch die unwirtliche Küstenlandschaft im Süden Kerrys, war er schwer zu fassen.
Magee heiratete Bridget Morgell, die Tochter des einflussreichen Kaufmanns Thomas Crosby aus Dingle, der sogar Abgeordneter für Kerry im Parlament in Dublin war. Natürlich war es für einen so hohen  und ehrenwerten Herren unschicklich, seine Tochter an einen solchen Schmuggler verloren zu haben. Und so scheint es nicht unwahrscheinlich, dass Theobald Magees überraschender Tod in einem portugiesischen Kloster das Werk des mächtigen Abgeordneten sein könnte.
Wie dem auch sei, Magees Frau und seine Söhne führten das Unternehmen Theobald Magees fort. Und so bekam das kleine Dorf am Rande Kerrys seinen Namen:
Manche bezeichneten Theobald Magee einfach als einen gewöhnlichen Schmuggler.
In Portmagee nennt man ihn einen Visionär des Freien Europäischen Handels....

More than a little harbour...
In Irish the town is called "An Caladh", the ferry, due to its importance as a ferry-harbour between Valentia Island and the Irish mainland. 
The English name "Portmagee" occurred in the 18th century.
Captain Theobald Magee, a retired officer of King James' Army, earned his living by a brisk bargain with Portugal and France. Tobacco, textiles and brandy were his main goods. And thanks to the barren coastline of South Kerry, it was hard to capture Cpt. Magee.
Magee married Bridget Morgell, daughter of influential tradesman Thomas Crosby from Dingle, MP to Kerry at Dublin Parliament. And of course it was indecorous for a gentleman having lost his daughter to such a smuggler. And so it's not improbable that Theobald Magee's sudden death in a portuguese monastry might be caused by this powerful Member of Parliament.
However, Magee's wife and his children pursued the trades of Theobald Magee. And so the little village at Kerry's edge was named: Magees Port.
Some name Theobald Magee a simple smuggler.
In Portmagee he is called a visionary of Free European Trading.