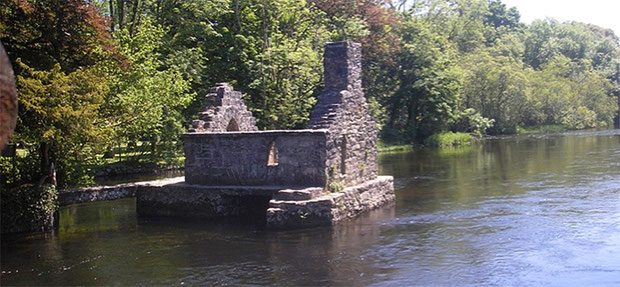 Fisch war eines der Grundnahrungsmittel im Alltag eines mittelalterlichen Klosters und
dieses kleine Gebäude, wohl im 15./16. Jahrhundert erbaut, wurde höchstwahrscheinlich
von den Mönchen des Klosters Cong genutzt, um die Aufgabe des Fische Fangens einfacher zu gestalten.
Es wurde auf einer steinernen Plattform über einem Bogen erbaut, so dass das Wasser
des Flusses darunter durchfließen konnte. Eine Falltür im Boden könnte für ein Netz genutzt worden sein und die Mönche konnten während des kalten Wetters an dem kleinen Kamin sitzen, darauf wartend, dass ihnen ein Fisch ins Netz ging. Es heißt, das ein Seil das Fischerhaus mit einer kleinen Glocke verband, die dem Koch des Klosters den frischen
Fang ankündigte.

Fish was a staple in the diet of a medieval monastery, and this small building, probably built in the 15th or 16th century, is believed to have been used by the monks of Cong to make the task of catching fish a little easier.
It is built on a platform of stones over a small archwhich allows water from the river to flow underneath the floor. A trapdoor in the floor may have been used for a net, and monks could sit by the small fireplace in cold weather waiting for their catch. It is said that a line was connected from the fishing house to a bell in the monastery kitchen to let the cook know that there was fresh fish available.