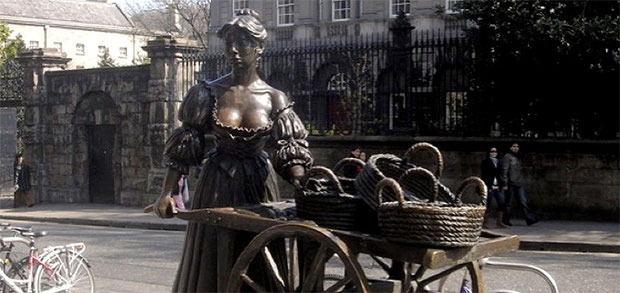 Die Geschichte von Molly Malone
Diese hübsche Frau war eine Fischverkäuferin auf den Straßen Dublins. Sie starb sehr jung an einem nicht näher benannten Fieber. Es kam die Legende auf, dass es im 17. Jhdt. eine historische Molly Malone gab, die tagsüber als Straßenhändlerin und nachts als Prostituierte arbeitete.
Doch wie so oft gibt es keinen Beleg für eine reale "Molly Malone". Doch steht sie stellvertretend für all die Frauen, die Tag und Nacht hart arbeiten, um ihre Familie zu ernähren.
1988  stimmte die Dublin Millennium Commission  Anträgen zu, die besagten, dass am 13. Juni 1699 eine "Molly Malone" in Dublin starb und dieser Tag fortan zum "Molly Malone Day" werden sollte. Tatsächlich wurde das Lied nicht vor 1883 aufgenommen, als es in Cambridge, Massachussetts aufgeführt wurde. Es heißt auch, das Lied sei in Schottland geschrieben worden, auch wenn sich hierfür keine Aufzeichnungen finden lassen.
Nach Auffassung von Siobhán Marie Kilfeather sei das Lied im Music-Hall-Stil der Zeit geschrieben und auch wenn es nicht völlig auszuschließen sei, dass die Melodie auf einer älteren traditionellen Weise beruhe, "weisen weder Melodie noch Text irgendeine Zugehörigkeit zur irischen Tradition der Straßenballaden auf". Sie bezeichnet die Geschichte einer historischen Molly Malone als "Nonsens".
An der Ecke Grafton Street/Suffolk Street wird mit einer von Jeanne Rynhart geschaffenen Statue der Molly Malone gedacht. Sie wurde zum 1.000-jährigen Jubiläum der Stadt im Jahre 1987 errichtet und wird wegen ihrer Freizügigkeit im Volksmund auch als "The Tart With The Cart," (Das Flittchen mit dem Karren), "The Dish With The Fish," (Die Schnitte mit dem Fisch) und "The Trollop With The Scallops" (Das Flittchen mit den Muscheln) genannt.

The Story of Molly Malone
This beautiful woman was a fishmonger and plied her trade on the streets of Dublin. She died of an uncertain fever, not being very old but very young. There is the legend grown up that there was a historical Molly, who lived and died in the 17th century. It's said that she was a hawker by day and part-time prostitute by night.
As usual there is no evidence of a real "Molly Malone" in any time. But she stands for all the women working hard by day and night to feed her family.
In 1988 the Dublin Millennium Commission endorsed claims concerning a Molly Malone who died on 13 June 1699, and proclaimed 13 June to be "Molly Malone day". In fact the song is not recorded earlier than 1883, when it was published in Cambridge, Massachusetts.
According to Siobhán Marie Kilfeather the song is from the music hall style of the period, and while one cannot wholly dismiss the possibility that it is "based on an older folk song", "neither melody nor words bear any relationship to the Irish tradition of street ballads." She describes the story of the historical Molly as "nonsense".
On Corner Grafton Street/Suffolk Street Molly Malone is commemorated in a statue designed by Jeanne Rynhart. It was erected to celebrate the city's first millennium in 1987 and according to her low-cut dress it is known colloquially as "The Tart With The Cart," "The Dish With The Fish," and "The Trollop With The Scallops."
where the girls are so pretty,
I first set my eyes on sweet Molly Malone,
As she wheeled her wheel-barrow,
Through streets broad and narrow,
Crying, "Cockles and mussels, alive, alive, oh!"
Crying "Cockles and mussels, alive, alive, oh".
And sure 'twas no wonder,
For so were her father and mother before,
And they each wheeled their barrow,
Through streets broad and narrow,
Crying, "Cockles and mussels, alive, alive, oh!"
And no one could save her,
And that was the end of sweet Molly Malone.
Now her ghost wheels her barrow,
Through streets broad and narrow,
Crying, "Cockles and mussels, alive, alive, oh!"
*Before the Great Vowel Shift, /iː/ was pronounced as /eɪ/. The word "fever" would have been pronounced as "favour", rhyming with "save her" in the next line. That pronunciation is still sometimes used in this song, particularly in Ireland.