Kilmichael Ambush Site, Kilmichael, Co. Cork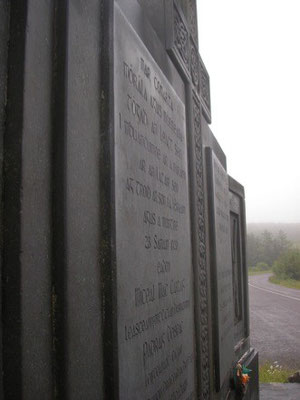 Kilmichael - der Wendepunkt des Unabhängigkeitskampfes
Wie jeden Sonntag passierten auch am 28. November 1920 britische Auxiliaries diese Stelle, ca. 1 Meile von Kilmichael entfernt. Tom Barry, der 23-jährige Kommandant der 3. Brigade der West Cork Flying Columns legte mit 35 Volunteers einen Hinterhalt – nur eine Woche nach dem berüchtigten Massaker im Dubliner Croke Park (Bloody Sunday 1920), bei dem die Auxiliaries während eine Gaelic Football Matches 14 Zivilisten töteten.
Tom Barry stellte sich dem ersten Lastwagen mit 9 Auxiliaries in den Weg. Er trug nach eigenen Angaben eine Uniform der Irish Volunteers, während die Briten später behaupteten, er hätte eine britische Uniform getragen. Der Lastwagen wurde langsamer und Barry warf eine Handgranate in den offen Wagen. Keiner der neun Briten überlebte.
Währenddessen kam der zweite Lastwagen, ebenfalls mit 9 Soldaten besetzt, in den Bereich des Hinterhalts. Aufgrund der offensichtlichen Übermacht ergaben sich die britschen Soldaten und warfen ihre Gewehre weg. Einige der unerfahrenen IRA-Kämpfer, die erst eine Woche vorher für diesen Hinterhalt gedrillt wurden, erhoben sich aus ihren Positionen. Daraufhin zogen die Auxiliaries ihre Pistolen und feuerten auf die Rebellen. Tom Barry befahl daraufhin
"rapid fire and do not stop until I tell you!"
. Zwei Briten überlebten den Hinterhalt, von denen einer tödlich verwundet war. Der zweite Überlebende schleppte sich verletzt zu einem Haus, um dort um Hilfe zu bitten. Die "Bewohner" des Hauses, zwei IRA-Kämpfer töteten Cecil Guthrie mit seiner eigenen Waffe. Ironischerweise wurde Guthrie als der Mann identifiziert, der den Zivilisten Séamus Ó Liatháin tötete.
Dem Hinterhalt fielen 17 britische Soldaten und 3 IRA-Kämpfer zum Opfer.
Der "Kilmichael Ambush Site" ist ein beängstigender und zugleich mytischer Platz. Ein großer Stein gedenkt den irischen Kämpfern und den drei toten IRA-Kämpfern.Weitere Steine markieren die Positionen der "Sections", die den Hinterhalt legten.Ein Stein trägt die Inschrift: "and on this road too, died seventeen terrorist officers of the British Forces"....

Kilmichael - turning point of the war of independence
As they did every sunday British Auxiliaries passed this spot on November 28, 1920, about a mile from Kilmichael. Tom Barry, 23-year old commanding officer of the 3rd Brigade West Cork Flying Column, lied in ambush with his 35 Volunteers - just only a week after the infamous Bloody Sunday in Croke Park, Dublin where Auxiliaries killed 14 civilians while a Gealic Football match.
Tom Barry halted the first lorry, carrying 9 troops. He said he wore the Irish Volunteer uniform while the British later claimed, he wore a British uniform. The lorry reduced speed and Barry threw a grenade in the open carriage. None of the 9 British survived.
Meanwhile a second lorry came up to the ambush site, also with 9 soldiers. Due to the obvious superiority of the Irish, the British surrendered and threw away their rifles. Some of the inexperienced IRA-fighters who were just drilled for this mission one week ago, arose from their positions. The Auxiliaries then got their pistols and shot at the rebels. Tom Barry ordered

"rapid fire and do not stop until I tell you!"

. Two British survived this ambush, one seriously injured. The second survived heavily injured and made his way to a nearby cottage to ask for help. The "inhabitants", two IRA-members, killed Cecil Guthrie with his own weapon. Ironically Guthrie was identified as the man who killed civilian Séamus Ó Liatháin some days before.
17 British soldiers and three IRA men fell victim to the ambush.
The "Kilmichael Ambush Site" is a scary but in the same time a mystical place. A huge stone commemorates the Irish warriors and the three Irish deaths. Further stones are marking the positions of the "sections" of the IRA who lied in ambush. Another stone reads: "... and on this road too, died seventeen terrorist officers of the British Forces" ...