The story of Cromwell's Bridge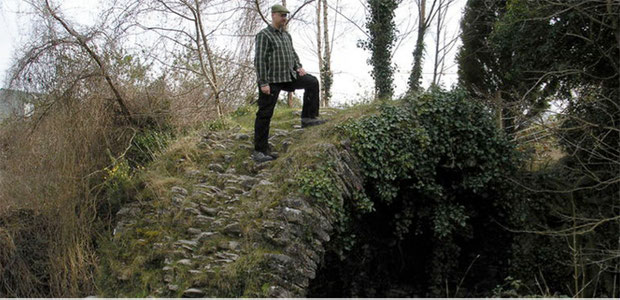 Vom Teufel erbaut...
Versteckt in einem Wohngebiet in Kenmare führt diese kleine Brücke über einen Bach. Sie scheint recht sinnlos zu sein, denn auf der einen Seite fällt sie ca. 3m steil ab. Kein Fuhrwerk kann diese Brücke passieren und auch Fußgänger müssen sehr aufpassen.

Es heißt, als Oliver Cromwell damals in Irland wütete, erbaute er diese Brücke mit Hilfe des Teufels persönlich. So wollte er die Bewohner Kenmares demütigen.
Nun weiß man allerdings, dass Oliver Cromwell zu Lebzeiten niemals in Kenmare war.

Beim Teufel ist man sich nicht sicher...


Neben der Tatsache, dass Cromwell tatsächlich nie nach Kerry kam, gibt es noch eine weitere Erklärung, warum Cromwell's Bridge ihren Namen trägt:
Die Brücke wurde von englischen Siedlern im 17. Jahrhundert erbaut und ähnelt in ihrer Form einem starken Schnauzbart, irisch croimeal, ausgesprochen "croh-mehl"... Cromwell....

Built by the devil...
Hidden in a residential area of Kenmare town this small bridge leads over a stream.
It seems to be sense- and useless since one side of the bridge goes straight down for approx. 10ft. No cart can pass this bridge and even pedestrians have to watch their steps.
It is said, that in the times when Oliver Cromwell raided Ireland he built this bridge with the help of the devil himself. By doing this he wanted to abase Kenmare's residents.
Well, it is acknowledged that Cromwell never sat foot on Kenmare's soil.
But it is not sure the devil didn't either.

Beside the fact that Oliver Cromwell never was in Kerry, there's another explanation of the bridge's name:
built by English settlers in the 17th century this bridge looks like a moustache. The Irish word for moustache is "croimeal", pronounced "cro:mel" ... Cromwell....